Through our state-of-the-art repeater system that covers all four major networks, EE, O2, Vodafone and Three, we successfully solve the problem of dropped calls, poor voice quality and low data throughput caused by a weak cellular signal.
Our system works via a high gain external antenna that connects to the strong mobile phone signal outside, which is then fed into the internal repeater known as a Network Unit. This is then connected to Coverage Units distributed throughout the building which amplify the signal from outside. The coverage units all talk to each other creating a super cell within the building, no matter how large or small.
Not to be confused with Femtocell solutions (the units which connect to your router),the much more powerful Boost Pro technology offers clear advantages. You can view a comparison between the two solutions here, to determine the best solution for your requirements.
Boost Pro Hybrid DAS
(Scalable)
Scalable All-Digital PoE Cat5e Active DAS Hybrid for Middleprise
Up to 100 dB (1000x Stronger Signal)
Single or Multi-Carrier Solution
3G / 4G / LTE for Voice and Data
Carrier-Approved and Unconditionally Network Safe
Large commercial premises such as shopping centres, hotels and hospitals
Coverage up to 15,000 ft2 (1,500 m2)
100 dB system gain
Perfect for remote and rugged environments
Can be used in vehicles & boats.
Indoor/Outdoor NEMA 4 Rated
Industrial premises such as factories, warehouses, distilleries, construction and transport. 
Coverage up to 15,000 ft2 (1,500 m2) per system
100 dB system gain
Built for bands 1, 3, 7, 8 and 20
Ease of setup
Sleek, attractive design
Small and medium premises such as offices, banks, pubs, clubs and large homes.
Outdoor NEMA 4 Rating
Multi-carrier and user support
Carrier approved and unconditionally network safe
65 dB (mobile mode) and 100 dB (stationary mode) max gain
Suitable for all vehicles including vans, buses, HGVs and emergency services.

Single or multi-carrier solution
3G / 4G / LTE for Voice and Data
Carrier-Approved and
Unconditionally Network Safe
Scalable All-Digital PoE Cat5e
Solution
Remote Monitoring and
Management
Case Study Keltbray Mobile Connectivity Improvement Project Keltbray – Crewe Founded in 1976, Keltbray provide a vast range of services related to engineering and construction including; civil engineering, pre-construction services, rail electrification plant & engineering, asbestos management, concrete structures, decommissioning and demolition works.  Images credit: Keltbray Group "After years of looking at various options for
Read More »
Case Study Landis+Gyr, Manchester Site Wide Connectivity Improvement Project Landis+Gyr, Manchester Landis+Gyr is an industry leader in energy management solutions. With a new office opening in Manchester in 2020, Boost Pro were approached to provide a solution to improve mobile signal strength in the building. Image credit: Landis & Gyr – https://www.landisgyr.eu/ The Solution The
Read More »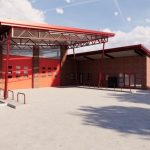 Case Study Wakefield Fire Station Site Wide Connectivity Improvement Project Wakefield Fire Station – Solution Background Wakefield Fire Station is a 26,000ft2, £2.9m fire station project, scheduled to open in August 2020. The site is made of multiple buildings, all requiring signal improvements for operational purposes, health and safety, emergency business continuity and cross-service communications.
Read More »